One of things that irks me about responses to Summorum Pontificum is when people (especially bishops) imply that virtually no one is interested in the traditional rites (e.g. "this is for a tiny minority of Catholics," or "Most faithful are happy with the new mass, but…"). Sometimes they even specifically say 1%.
I don't think that characterization is accurate in the first place. I think more people are interested than they care to admit. Especially when you compare the number who are interested to the number of Catholics who practice their faith, rather than to the Catholic population as a whole (most of whom are only nominally Catholic).
That having been said, it is probably true that the majority of practicing Catholics are not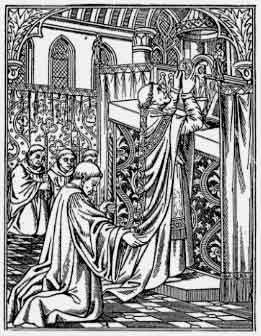 clamoring for the Extraordinary Form. My own experience is that, even with the recent Motu Proprio news, most Catholics are totally unaware of the traditional rites. Of course you can't be interested in something if you don't know it exists, or if your knowledge is so limited that you don't know anything about it. I do think that if more people knew just a little about the traditional mass, there would be much more interest.
So, I created this brief pamphlet to try to introduce people to the Extraordinary Form. The target audience is faithful Catholics who are simply ignorant of the traditional liturgy. It is not designed to change someone's mind who is opposed to the Extraordinary Form. It simply designed to generate interest from people of good will.
I tried to stay positive, and avoid comparisons between the two forms. I think the traditional form will speak for itself in that regard. I did feel it was important to address some common misconceptions, especially in light of the Florida Bishops' recent savaging of the MP.
I also tried to make it simple and easy for people to print out and make copies. It should just be a matter of printing on both sides a standard sheet, and folding it in half.  My hope is that folks will make their own copies and leave some laying around their local Ordinary Form parishes. Anyone may make copies and redistribute it as they see fit.
So let me know what you think. This has been taking up most of my blogging time for the last month or so (a big part of why blogging has been lite), and I probably won't have much more time to change it. But I will correct any errors that are found and consider other comments. I tried to make it look nice, but I am no graphic designer, and I wanted to actually finish it, so I had to stop messing with the layout after a while.
So, here it is.